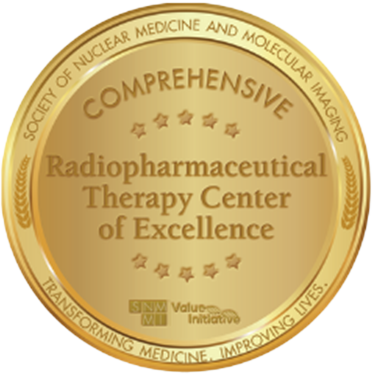 Congratulations to the Nuclear Medicine Team for being officially designated as an SNMMI Comprehensive Radiopharmaceutical Therapy Center of Excellence. The Theranostic Center at Banner University Medical Center - Tucson is the first recipient in the state of Arizona to receive this prestigious designation. 
The Nuclear Medicine and Molecular Imaging Division uses small amounts of radioactive materials to image specific organ or system functions within the body. The same methods are used to treat disease, and to evaluate lung cancer, cancer of the head and neck, lymphoma and melanoma. Our vast array of exams search for disease at the molecular level in nearly every organ of the body. The ability to identify disease on such a granular level makes it easier to find and treat diseases earlier and improve outcomes. Nuclear medicine is a well-established diagnostic imaging service that has been optimized to minimize radiation exposure. This safe molecular targeting of disease provides valuable information that helps direct the care of our patients.
PET/CT
PET/CT is a molecular imaging exam that is most commonly used to target cancer cells and is an essential component of staging and monitoring treatment for numerous types of cancer. PET is the abbreviation for positron emission tomography, and CT is the abbreviation for computed tomography. A PET/CT scanner is a hybrid scanner that combines the molecular imaging of PET with the anatomical detail of CT. We are the only site in Southern Arizona to provide state of the art imaging using advanced time of flight techniques that allow superior resolution and substantial reductions in radiation to the patient. PET/CT has also become a powerful new way of evaluating brain diseases, including Alzheimer's disease, persistent seizures and dementia. Our PET/CT scans are expertly read by board-certified radiologists with fellowship training in nuclear medicine. 
Highlights
Single-photon emission computed tomography (SPECT or SPECT/CT.) Myocardial perfusion imaging, bone scans, HIDA scans, sentinel node and dopamine transporter imaging
Therapies include radioiodine for benign and malignant thyroid disease and radium-223 for prostate cancer
Active participation in translational research and state-of-the-art clinical imaging to advance patient care