Department News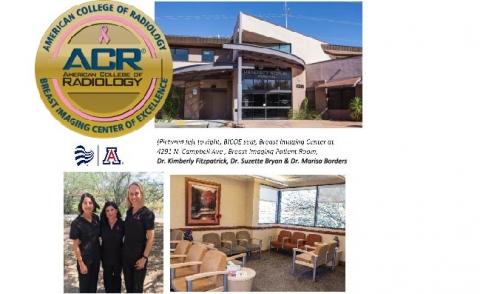 BICOE Awarded to Breast Imaging Center
After months of hard work, diligence and preparation, the breast imaging team at Banner University Medicine is proud to announce that they have achieved the highly sought after Breast Imaging Center of Excellence (BICOE) distinction.
ARRS 2019 Annual Meeting: Bronze Medal Winners
Many congratulations to Dr. Udayasankar and his co-authors Dr. Kalb, Dr. Desoky, Dr. Gilbertson & Dr. Martin for being awarded a bronze medal for their outstanding work. The American Roentgen Ray Society has awarded their electronic exhibit abstract, E1823, entitled, Non-Enhanced MRI of the Abdomen in Comprehensive Evaluation of Acute Abdominal Pain in Children: A Paradigm Shift, with an ARRS 2019 Bronze medal for this year's ARRS Scientific Program.