Program Overview: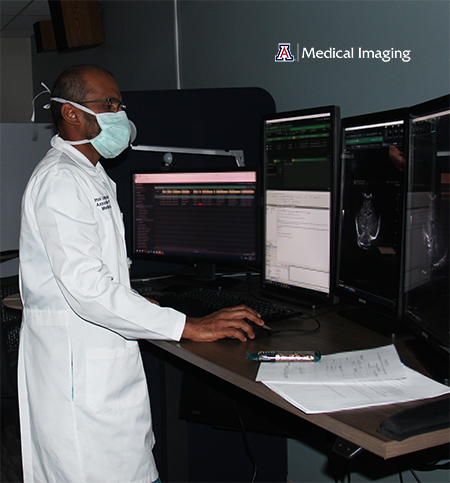 The program offers one year of GME in neuroradiology.  The fellowship is ACGME-accredited and leads to a Certificate of Added Qualification (CAQ) in neuroradiology. The fellow has 4.5 clinical and 0.5 academic days per week.  In addition, each fellow is awarded one week of block academic time during the second, third and fourth quarters of the year for a total of three weeks of protected, block academic time.  The fellows have been very productive in their use of academic time resulting in journal publications, book chapters, and presentations at national meetings.  If a presentation is accepted at a national meeting, departmental funding is often available. 

Neuroradiology fellows are based at Banner - University Medical Center - Tucson and predominantly read CTs and MRs of the brain, face, neck and spine.  CTs include CT perfusion, CT angiography, and three-dimensional CT imaging.  MR includes a wide range of advanced imaging protocols.  These include MR perfusion using DSE and DCE techniques, MR angiography, MR spectroscopy, diffusion tensor imaging, and functional imaging.  All neuroradiologic imaging including both adult and pediatric patients is performed by the neuroradiology section.  There are multiple spinal procedures per week divided among the residents and the fellows.  The spinal procedures include biopsies, lumbar punctures, myelograms, sacroiliac joint injections and epidural injections.  The fellows participate in diagnostic neuroangiography and endovascular neurosurgery procedures.
The program includes a series of lectures offered exclusively to the fellows two to three times monthly.  There is also a fellows' journal club. The fellows participate in a wide variety of interdisciplinary conferences and tumor boards.  These include neuro-oncology tumor board, ENT tumor board, pediatric tumor board, and stroke conference.  Medical Imaging Grand Rounds and Neuroscience Grand Rounds add to the educational experience. The fellows are provided with a professional budget of $1500 per year.  Call is one in four.  Three weeks of vacation time are provided.

The Arizona Health Sciences Library (AHSL) of the University of Arizona supports the students, faculty, researchers and clinicians in the College of Medicine and other colleges.  AHSL enables electronic access to vast stores of biomedical literature (around 10,000 serials) and participates as instructors in the curriculum of the colleges, works with researchers and clinicians on projects to improve access to essential information, and provides comfortable space for small group collaborations and quiet studying in a collegial atmosphere.  Evidence-based medicine tools include EBM Search (a locally developed federated search), Cochrane, ACP Pier, BMJ Clinical Evidence, and Clinical Practice Guidelines.  StatRef is a collection of over 90 electronic textbooks. Countless full-text journals are also accessible through the campus library catalog 24 hours a day.
Rotation Schedule:
35 Inpatient CT/MRI/Spine Procedures
5 Outpatient CT/MR
3 Neuroangiography/Endovascular Neurosurgery
6 Research/Academic Time
3 Vacation
Application Process:
Please note: the Fellow Candidate must be eligible to obtain an Arizona Medical License prior to the start of the program.To be eligible for acceptance, applicants must possess an MD or DO degree and have satisfactorily completed a diagnostic radiology residency training program accredited by the ACGME or the Royal College of Physicians and Surgeons of Canada (RCPSC). For applicants that originate from a non-ACGME-accredited residency, please note the following requirements and items that will need to accompany your application as outlined by the ACGME under Section III. 
All neuroradiology fellowship applications must be submitted via ERAS. Please include the following documents:
Curriculum Vitae
Personal Statement
Medical School Transcripts or Dean's Letter
3 letters of recommendation
USMLE Scores (Steps I, II, IICS, III)
Photo
Visa Status, if applicable
ECFMG Certificate, if applicable