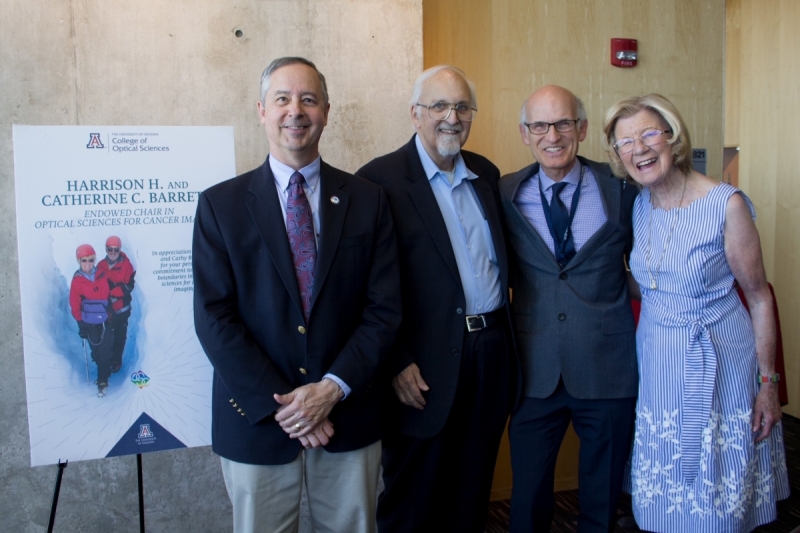 Dr. Harrison Barrett, Regents Professor of Optical Sciences, Medical Imaging, and Applied Math, was honored at a reception celebrating the establishment of the Harrison H. and Catherine C. Barrett Endowed Chair in Optical Sciences for Cancer Imaging.  
Dr. Harrison Barrett was recognized for his mentoring and scholarly activities. During his 44 years at The University of Arizona he has mentored 64 Ph.D. students, published over 300 technical papers, and received 29 U.S. patents for his innovative work in image science. His awards include a Humboldt Prize, the 2000 IEEE Medical Imaging Scientist Award, an E. T. S. Walton Award from Science Foundation Ireland, and the 2005 C. E. K. Mees Medal from the Optical Society of America.
Dr. Barrett's award-winning book, "Foundations of Image Science," coauthored with his student Dr. Kyle J. Myers, has become a highly cited reference in the optics field. He was inducted into the National Academy of Engineering in 2014 in recognition of his "contributions to the physical and statistical foundations and applications of radiological and nuclear medical imaging."
The endowment will support a faculty position in the College of Optical Sciences (OSC0 with a membership in The University of Arizona Cancer Center (UACC) and it is gifted by the chair's namesake, Dr. and Mrs. Harry and Cathy Barrett.