Home Page
UA Researchers Develop Brain-Mapping Technology
Researchers at the University of Arizona are developing a noninvasive brain-scanning technology that could produce images far superior to those obtained with the most commonly used systems — electroencephalography and functional magnetic resonance imaging. The technique, which incorporates sound waves to measure electrical activity in neural tissue, could improve diagnosis and treatment of many disorders, including epilepsy, Parkinson's disease and traumatic brain injury.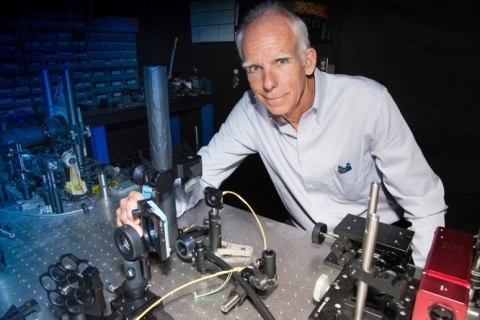 A Man of Vision: Interdisciplinary Researcher and Department Head Art Gmitro
Arthur F. Gmitro is a very busy man. A professor of medical imaging in the UA College of Medicine – Tucson with a joint appointment in the UA College of Optical Sciences, he holds the Margaret E. and Fenton L. Maynard Chair in Breast Cancer Imaging and also is head of the UA College of Engineering's Department of Biomedical Engineering.