Our Commitment
The Department of Medical Imaging celebrates our University's greatest asset of diversity and champions an inclusive climate. We understand that diversity in experiences and perspectives is vital to advance innovation, critical thinking and complex problem solving. We are committed to raising awareness of health care disparities, marginalized individuals and populations and inspiring action towards equity.
DEI Committee
Hina Arif-Tiwari, MD, FSAR & Laura Lee, MD, co-Chairs
Diversity Equity and Inclusion Committee

Tammie Anderson
Janet Black
Chris Brunson, MD
Tyson Chadaz, MD
Alan Chiang, MD
Dallin Christensen, DO
Michelle Faull
Jennifer Fischahs

Aubrey Frazzitta, MD
Dorothy Gilbertson, MD
Andrew Karellas, PhD
Terry Matsunaga, PhD
Austin Pickrell, MD
Melissa Ruiz
Bital Savir-Baruch, MD
David Supeck, MD
Maria Telles, PhD
In Our Own Words
"Educating and practicing inclusion and equity consciousness will help us strive toward cultural and gender equity helping us take another step forward."

- Maria Telles, PhD

"Health care and medical training knows no boundaries.  It should be available equally to all, regardless of background, belief or orientation."  

- Alan Chiang, MD

"It is very important to us tocreate/facilitate a safe environment where everyone can feel welcomed, heard, and understood while combining and encouraging diverse perspectives and experiences to ameliorate our work, educational, patient, and social experiences."

- Tyson Chadaz, MD

"From my perspective, diversity, equity, and inclusion can afford more opportunities for those with developmental disabilities to be integrated into the mainstream of our society.  Those citizens can contribute so much to the growth and advancement of our workforce if only given the opportunity to succeed."

- Terry Matsunaga, PhD
DEI Training, Lectures and Grand Rounds 
Diversity in Medicine Visiting Student Scholarships
Medical Imaging, in conjunction with the College of Medicine-Tucson and Banner, offers annual scholarships for out of state 4th-year Under Represented in Medicine (URiM) medical students interested in our general radiology elective.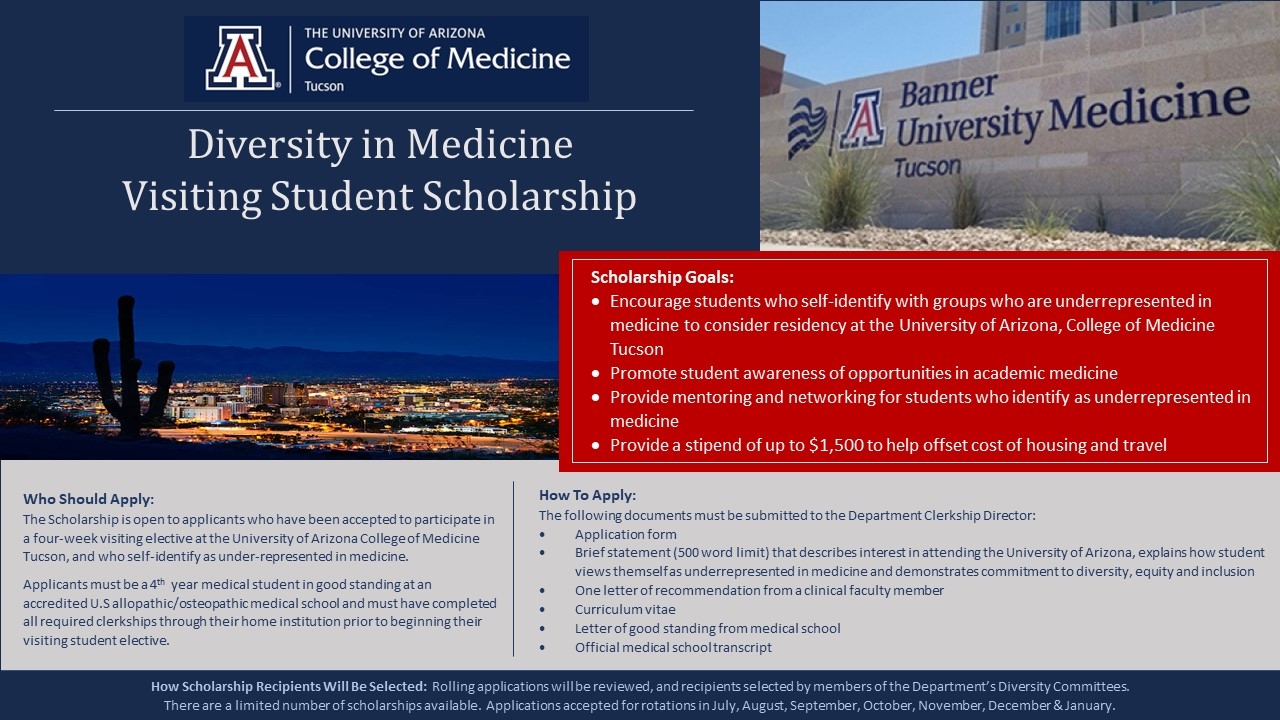 The DIversity Equity and Inclusion Committee has had the pleasure of recognizing two outstanding recipients to date for the 2022-23 and 2021-22 academic years.
Future opportunities will be posted soon.  
---
Online Resources
Campus Resources
---
Other DMI Committees
The DMI Diversity Equity and Inclusion committee proudly collaborates with the College of Medicine - Tucson Office of Diversity, Equity and Inclusion.