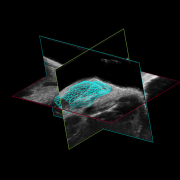 Biomedical ultrasound is widely used for diagnostic imaging (tumor detection, cardiac abnormalities, etc), surgical guidance and therapy (head and body cancer, muscle injury, etc). Dr. Russell Witte and Dr. Terry Matsunaga develop new technologies and techniques that potentially translate to the clinical.
Traditional ultrasound imaging typically suffers from poor contrast in soft tissue. To address this limitation, Dr. Witte's experimental ultrasound laboratory devises novel contrast mechanisms by combining ultrasound with light, microwaves or electricity.
Dr. Matsunaga's laboratory develops ultrasound contrast agents for imaging and novel delivery systems for drug and gene therapy. Both Dr. Witte and Dr. Matsunaga work closely with Dr. Evan Unger, the principal architect of the vascular microbubble agent, Definity® , an FDA-approved echocardiographic contrast agent, and former CEO of Imarx Therapeutics, Inc.