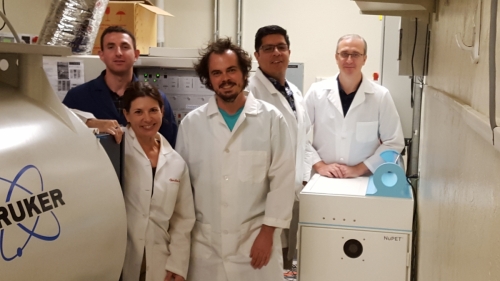 On September 1, 2016, Cubresa Inc., a medical imaging company that develops and markets molecular imaging systems, announced the successful installation of their compact PET scanner called NuPET™ for preclinical PET (Positron Emission Tomography) and MRI (Magnetic Resonance Imaging) in the Department of Medical Imaging at the University of Arizona.
The University of Arizona is developing a dual-modality approach by using Cubresa's NuPET™ PET scanner and a dynamic MRI technique to more fully characterize cancerous tumors. The complementary imaging methods of PET and MRI are used to better understand disease and test novel treatments in small animal subjects.
"The key is taking advantage of the strengths of each technique," says Dr. Julio Cárdenas-Rodríguez, Research Assistant Professor of Medical Imaging at UA. "Dynamic Contrast Enhanced (DCE) MRI shows vascular permeability or the 'openness' of tumors for delivery and uptake of nutrients such as glucose, while PET imaging using 18F-fluorodeoxyglucose (18F-FDG PET) shows glucose consumption by those cells." Read the full article here:
http://www.cubresa.com/nupet-at-uarizona-could-improve-tumor-assessment/
Panel A shows a flank A549 lung tumor in a nude mouse with combined 18F-FDG PET uptake (signal intensity in color) and T2-weighted anatomical MRI (grayscale). Panel B shows a similar tumor image with a relative permeability map for the tumor (color code) overlaid on a corresponding anatomical MRI reference. Regions identified as necrotic were not included in the DCE MRI analysis. Image courtesy of the University of Arizona, Department of Medical Imaging.